The man operating the body scanner asked me to go back 3 times. I had already removed my belt and shoes so when the scanner flashed the red lights, I imagined he would ask me to check if I was having a ring in my pockets, perhaps? Because, perhaps, I could be running away from my husband, I mean no one would guess. After 3 attempts of going back and forth, he finally told me to go ahead with the other procedures. He must have concluded that those unidentified stubborn metals must have been the wires in my bra – underwire bra – and there's no chance we would even try to remove them. Men do you understand what those are?  
I used to pray for a chance to get an airplane experience in my life, and that opportunity came at least five years ago I guess. Let me tell you the second time this feeling came strongly. A few years ago I went for my first Internship in a certain Organization somewhere behind Wilson Airport, Nairobi.  The woman I was working with – my supervisor – would ask that I accompany her in almost every meeting and every field visit she went to. She was so good – Bless her heart. One time she asked me if I could attend a certain field visit somewhere in South B but I should first meet our Boss, in a certain hotel in town, to facilitate me with everything I will need for the visit. I said Sawa. By that time I had crammed abit of the landmarks in Nairobi so I knew I would somehow get myself to the hotel. She then asked 'you know where the Hotel is?' I said No but I will figure it out. She told me that by that time I should have known most of the places in Nairobi to an extent that if they were to send me for an International meeting, I would easily get to the Airport and manouver without anyone's assistance. Internally I knew she had set me up to the task. If you are asking yourself why I couldn't say I will use an Uber, well it's because I had a Kabambe (for those who wouldn't know what that is, it's a very small humble phone used for making calls and sending/receiving messages only. Only. Safe to add that it can store charge up to 110 days). And she was right, the first time I got to the airport I was alone and I got to my destination safely.
As a local tourist who travels on a budget, and very few times by flight, I could identify a few changes in the aiport that came in with the Covid – 19 pandemic. By the way, judging by the slight decrease in the number of Corona cases that are being reported in Kenya, should we start proclaiming that the curve is finally flattening or is it too early to speak? And now that our Cabinet Secretary for Education has asked teachers to go back to their areas of work next week for planning purposes prior to reopening of Schools, I think we are finally coming towards the light at the end of this Covid – 19 tunnel. I can not wait.
So, before you board the plane, sanitizers and masks must be used. Also, checking of temperature has to be done, as has become our norm now. The air hostesses are now fully donned in protective gears – I mean their heads, clothes and fingers can not be seen ; you can only see their eyes. Finally men can now sleep without distraction. I asked one if I could take a photo of her and she gladly accepted.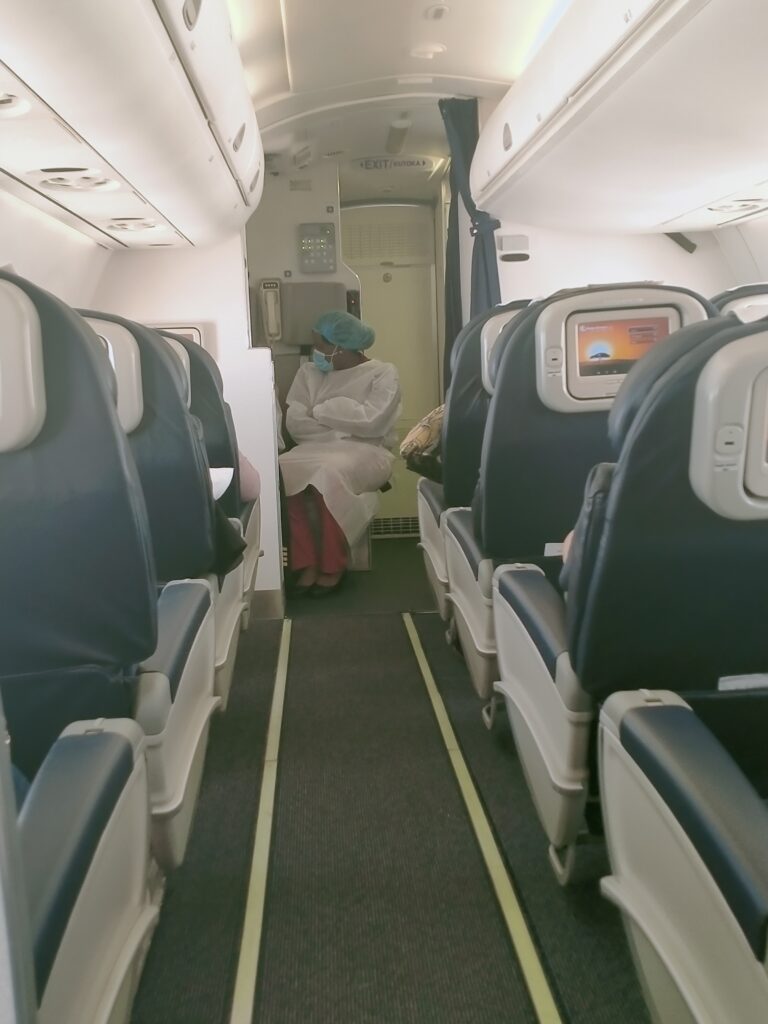 Lovers of those Cashewnuts that KenyaAirways love to supply, I'm sorry to report that they are no longer offering food for local travel. My fellow junk mates, you will wait for that glass of juice until your journey comes to an end. I mean, I had to ask about this specific part since matters concerning food are very sensitive. But that will be revisited and rectified later on. However they mentioned that water is readily available.
Once everyone was seated, the air hostess would give out sheets of paper for every passenger to fill, which would be collected later upon arrival. These would contain every passenger's detailed information for easier communication, should it be known that one of the plane crew or the passengers had a communicable disease. You would ask, why should people fill up the information yet the tickets had our details? Well, in those sheets provided by the Ministry Of Health, someone is expected to write the names of the areas they live in, and in instances of going for brief visits, you write the name of the Hotel you are going to. This, I found interesting.
One last thing I couldn't take a picture of, guess what happened? I went to the airplanes washroom for the first time in my life. I've always been so scared of movements in airplanes – they don't sit right with me. After watching a few movies where the main character goes to the washroom then something starts to happen without their knowledge, my mind blocked the idea of making movements in an airplane. But this time round, I stayed for 2 whole minutes. Because if anything was going to happen, it would happen even if I was seated with my seatbelt on. Plus, I was not the main character in whatever movie this was, I needed to chill.
A few seats were empty, which could mean a-lot of things from people cancelling their tickets, being scared to travel during this period or simply not every seat was occupied. Which is normal I think, the way sometimes a Matatu can have few passengers than the normal expectation.
Finally, after we landed and all passengers had moved out, we could see a group of people going in fumigate the airplane. Which clearly is for the safety of the next group of passengers. It was a great experience for me, to add to my knowledge of the changes I have seen this year. I have a lot of content to share with my children in future, about 2020. A lot of it.
And If any of you is going through a rough patch, please hang in there. It will get better. I am praying for you.
This is a photo of my best part of being in the air. Above the clouds. Enjoy!