I am writing this on a Monday.
A friend of mine called yesterday to inform me that he was on leave, and that he saw my mother on Saturday, at the market. He mentioned that she was doing well, in case I needed to know. We talked for sometime about a lot of things; he is an easy man. And wise. After that call, as I was cleaning the kitchen, I remembered how we met. And I laughed. More like feeling embarrassed. Do you ever think of the first time you met your friends? Did you imagine you would make good friends?
So, a few years ago, I was doing my internship at a certain company for three months, before moving back to school to advance my studies. I was being hosted by my sister, who lived in Lang'ata at the time. It was such a beautiful season – first time in employment and meeting new people. During that period, someone started calling me. Consistently. At first he said it was a 'wrong number' but then he kept calling. I wonder why I didn't block him. Anyway, much of those details have now been forgotten but he started saying how from speaking to me he had already created an image in his mind, of how I look. And he went ahead to describe me, exactly how I look like.
We kind of established a friendship. I know, I know, I am sorry my people. I can't remember his name at the time (the name he gave me), but I remember telling him that my parents are from Nigeria and my name is Ade Ochuku. It just came randomly. I guess I chose a name that's close to my name so that I don't forget it. I was so committed to being a Nigerian that I would throw in the randoms "A, a, abeg, stop lying to me'' and all those little Nigerian remarks.
I will call him *Peter.
We would say hi to each other from time to time just to know how the other person is doing. Hehehe. In our random conversations, he mentioned that he's never been to Coast and he doesn't even like the place. He also mentioned that he worked for Kenya Power, so anytime there was a power outage, I would text him to complain and he would assure me that their team is looking into it. After a while, I must have been bored of speaking to him so I told him that I decided I will not be speaking to a stranger, anymore. He said Sawa, but requested that I should plan to meet him when I am in town. I mean, boychild does not quit.
About 2 weeks later, I was going back to school to present my Research project and I asked one of my childhood friends, *Shila, to accompany me. The process ended earlier than we expected, and as you can guess by now, I told her about Peter and we agreed to meet him. By the way, don't get the impression that I am now wiser and I don't make silly decisions, let's just say – I have improved the quality of silly decisions that I make.
Anyway, so I called Peter. He said that he was already in town, I could plan meet him at the 'Ambassador' stage, and that he will be waiting for me outside a certain Hotel around that place. I was new in Nairobi but I knew a few spots. Probably you people were in your offices, busy working on that day, but what was I doing? Meeting someone I don't know. So we alighted from our Matatu and we headed to Ambassador. But since we didn't know what kind of a person we were going to meet, we decided to stand right opposite the hotel so that we can see him first before he sees us. Najua you all understand hii, msijifanye.
One thing about Ambassador is that everyone is busy on their phone asking where the other person is:
"Mi niko hapa na shati ya blue, wewe uko?"
"Unajua uko na uongo sana wewe. Tuliongea thirty minutes ago kumbe bado hujatoka home."
"Mi nishafika, uko wapi? Na I hope umekumbuka kubeba ile kuku ulipewa na mathee."
We kept looking at everyone trying to see whether Peter was there.
Finally we saw someone who looked like the person we were waiting for. More like the person we imagined he looked like. He was composed and was talking to someone, on his phone. My friend not having any shame, covered her mouth and whispered to me "Ah, Kwani amevaa trouser ya velvet?"
It was him. Our eyes met and he started coming towards us. He didn't even call me to confirm. He just came, smiled, and said 'Ade Ochuku… sasa.' We then started talking. His phone kept on ringing the whole time.
Yes, we both looked at the trouser, it was not velvet. He asked us to get inside the hotel so he can buy us something to eat, but before we responded, his phone started ringing. Again. We judged him and concluded that this man had his crew somewhere and they wanted to rob us. When he hanged up his phone, my friend lied that she needed to pick her Mother at the Bus Station so we should take her there first. But we lied that we didn't know our way there. He offered to take us to the Station. While he was leading us, his phone rang. Now we got very paranoid. As he kept talking on his phone while in front of us, we slowed down and started walking towards the opposite direction. Until we boarded our Matatus home. Immediately I was seated, I texted him to ask why he got lost on us. Playing reverse psychology on him. He obviously said he thought we were following him to the Bus Station only to look back and find that we were not there.
Ofcourse we sorted that small lie. And since he was still a stranger to me, I stopped talking to him.
Well, until one time I was going home and the bus we had both coincidentally boarded, stopped at Mtito Andei. You know, the usual short break that people have. I was among the last people to alight and as I went to order their expensive fries and their super orange chicken, guess who I see, Peter. I was shocked because he claimed he never planned to go visit the Coast. I concluded that that was not him but a few minutes later, this man came to sit at my table.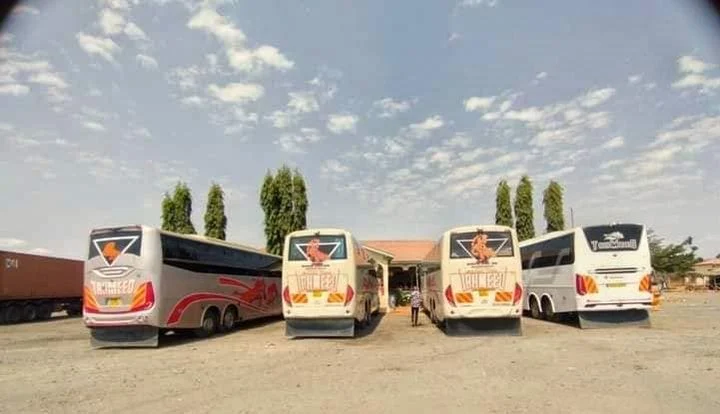 We just laughed, and came to the conclusion that the lies needed to stop. He was the first liar apparently and he made it clear that he lived in Coast and in-fact, we've lived in the same town. What's more? that he knows my name and everyone in my family. The name he had told me wasn't his real name either.
He passed by my home the next day, and I learnt that we already had many mutual friends. We've been good friends for many years now. And his phone rings all the time by the way, because of the nature of his job. Which isn't KPLC.
Cheers to you S!